Most of the children arrive at school on an empty stomach, many having walked for several miles, often in blazing sunshine or pouring rain. To give a greater incentive for the children to attend school The U Foundation has introduced a daily food programme.
An initial donation of seeds from a UK school encouraged the teachers and pupils to set up a small vegetable patch, allowing the children to learn all about subsistence farming. This has since expanded, and with the help of volunteers and some of the parents, the school now boasts a large flourishing vegetable garden just beyond the school grounds. With a great deal of hard work, along with a few challenges such as monkeys and an intermittent water supply, the school has managed to maintain a successful garden. Harvests include maize, tomatoes, peppers and aubergines.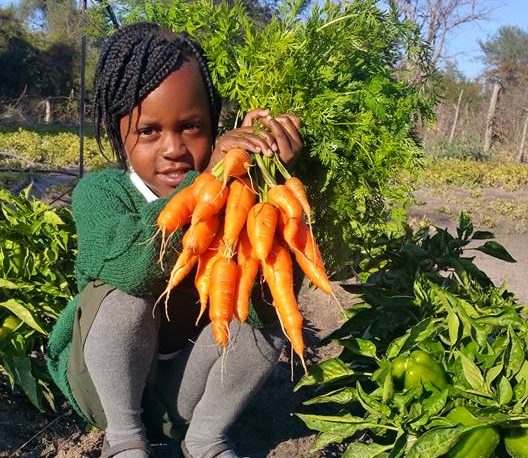 The Charity has provided a purpose-built kitchen and eating area where the children enjoy a hot, nutritious meal. The parents support this by rotating cooking responsibilities amongst themselves.
Depending on the season the meals are supplemented by vegetables from the school garden. Any surplus vegetables are sold either to local businesses or teachers, bringing in a small income to further develop the project.